as ardor app has been removed from ledger catalog, how can we access our ledger ardor accounts?
As far as I know the app it's still there. Not on the main catalog because it's still pending Ledger review, but it can be accessible once you enable "experimental" mode.
I want to hold my Ignis on my hardware wallet Ledger Nano S. I can not connect it. No accounts are showing me.
Have you followed the above guide?
Which specific problem are you facing? Any error message? Are you trying the desktop wallet or the browser wallet?
hi sergi
thanks for your help
yes, i've followed the guide and i install de app ledger nano properly
however when i try to connect it's not possible
i've uninstall and reinstall app desktop wallet, app ledger nano
i've also tried with web wallet, and not possible too
i've also tried open an incognito window and no way
i've also triend with a ledger nano s an a ledger nano x
i've some videos recording my problem, but i don't know how to send you them
i've attached an image form 3 errors i received.
thanks a lot again for your help
best regards and have a nice day, frank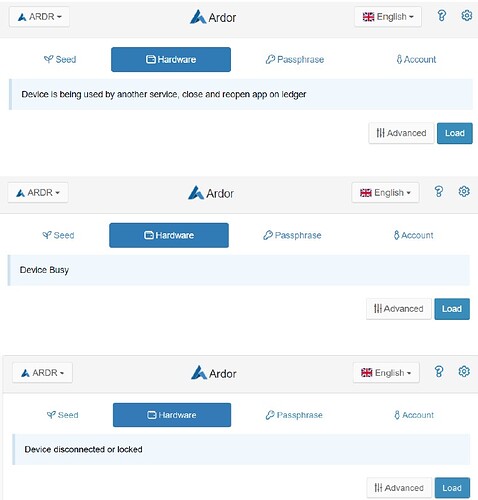 Hi Sergi. I mean the same like pormif. I can not connect in anyway.
We've identified and fixed some connection problems. The new version should work better in that regard.
Meanwhile, I can offer you a workaround. The main problem relies on a new WebUSB backend introduced by Chrome (and derivatives). Here are some technical details: WebUSB API - Chrome Platform Status
While you wait for the new version you can disable this new experimental USB backend here: chrome://flags/#new-usb-backend
Please let me know if this fixes you problem.
hi sergi
the solution indicated by you works perfectly, thanks!!!
however another issue has come
a new account is created instead load my previous account where assets were allocated
do you have any idea for solution this new issue?
thanks again
best regards, frank
The same ledger device, initialized with the same seed, should access the same accounts. Is it the same device that you used before? Did you reset it with a new seed?
Another explanation would be that you are trying on testnet vs mainnet, those use a different derivation path so you end up with different accounts.
hi
that's is the matter, same device, same seed, not reset, mainnet...
even i give you more information... same device access nxt wallet and nxt assets as usually in my "old" address
however when i try access my ignis in ardor wallet, a new address is created and ignis balance is 0
it's so strange and frustrating
thanks
Please verify the address is not the same and don't just check the balance or the wallet indication that the address is new. Are you are using your own node? Is it synchronized with the blockchain?
Check on another node if your address is indeed initialized in the blockchain.
hi sergi
many thanks indeed for your interest
i've tried all best but my knowledge is limited. sorry to bother you.
however, months ago no problem to access ignis assests. even currently no problem to acces nxt assest.
i don't understand what is happening.
anyway, i haven't write down original address. therefore i can't verify the new one and the original one.
on the other hand, i don't use own node. even the desktop wallet doesn't load ledger nano account.
therefore i only use web wallet. and i suppose it's sync.
finally, i don't know how check on another node if my address is indeed initialized in the blockchain. please, are you so kindly to give me more details to proceed?
thanks again.
regards, frank
Which web wallet are you using?
You say you don't have any problem accessing NXT assets with the ledger wallet?
This doesn't make sense because we haven't added support for Ledget to NXT.
Are you sure you are not mixing the BIP39 seed to initialize the ledger device with the Ardor/NXT legacy secret phrase?
First of all, thanks a lot for your interest.
Nop, I access NXT without ledger. And I'm not mixing.
I'm going to detail you my history and data in the hope that they will help you to help me
Thanks again for your support.
These were conditions from ico:
"INS is the first child chain token of the Ardor platform. The IGINS token will be used for all functions currently implemented on top of NXT.
Existing NXT holders will receive 0.5 IGINS token per 1 NXT held at the time of the Ardor Genesis Snapshot.
Alternatively, you can obtain IGINS at a better rate by buying JLRDA tokens in this crowdsale.
For 1 JLRDA token you will receive 1 IGINS token at the time of the Ardor Genesis Snapshot.
This is the JLRDA token for the IGINS token sale. For 1 JLRDA token the participants in the token sale will receive 1 IGINS coin at the time of the Ardor Genesis Snapshot. https://www.jelurida.com/ico"
I bought 53.414,65 NXT.
After that I spent 35.700 NXT to buy 34.000 JLRDA.
Therefore my current NXT balance is 17.712,65 (NXT-ABWP-9QN7-LGDG-6A9R6)
I received 8.856 IGINS from 17.712 NXT x 0.5
Also I received 34.000 IGINS from 34.000 JLRDA
As result I had 42.856,83 IGNIS in my original ledger ARDOR/IGNIS account (8.856 + 34.000)
However now, a new account has been generated in my ledger device (ARDOR-N8WR-MUJC-95NK-CR62L) with 0 IGNIS.
I don't know how recover my original ARDOR/IGNIS account.
Hi @pormif ,
Your ardor/ignis address would be the same as your nxt but change the nxt to ardor so your address is
ARDOR-ABWP-9QN7-LGDG-6A9R6
Your Ignis balance is 42,856.83 IGNIS and Ardor is 0
The passphrase is the same for nxt and ardor wallets
Not sure about your nxt balance as nxtprotal says no results found for this address.
Ledger creates a new address everytime you go to send funds for certain coins and also a new change wallet when there is remaining credit from your transaction. Ethereum and some others keep the same address. So it is possible you are using a new address rather than the initial one you created it with which shouldn't have happened but has. IMO this is the issue as Ardor/nxt do not (cannot) change addresses, like other cryptos.
hi TimmyTendies
you're totally right and now all is fine.
thank you very much for your support.
have a great day
best regards, frank
pormif,
No problem, glad I could help. Happy you accessed your funds